Hey :)
I'm Eugene.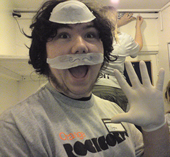 Please ignore the spazface
20, Student, doing a Degree in Crime Scene and Forensic Investigation.
Hugs & Coffee are the best things ever.
Suffer from an addiction to Ampersands, and a need to double &&& triple certain letters. I've had every colour hair the last year. I'm currently Blonde, but I really miss blue :(
Music Coffee&&Hugs are good too =]
I'm addicted to Batman, and absolutely love it. Anything Batman-related, and i'm yours
I really and honestly am the nicest person you'll ever meet & know, and because of that, i'll always be the "Dependable Friend", and Forever Alone D':
After all,
"I'm Just The Man On The Balcony // Singing Nobody Will Ever Remember Me"
Leave me summat =]
Skype: Lakeeffectkid1
Twitter: www.twitter.com/LakeEffectKid1
@LakeEffectKid1
Facebook: www.facebook.com/LakeEffectKid1
Formspring: www.formspring.me/LakeEffectKidXD
MySpace: www.myspace.com/seriouslyretardedguy